Our Cutter is Driven by his Passion for Gems
Ashton Gems is a U.S. based gem dealer that specializes in outstanding workmanship and delivering the highest quality gems.
Owners Larry and Morgan Mattos share a passion for beautifully cut gemstones. Larry has been fascinated by gems since the age of 12. His interest dates back to 1970, when he attended a rock and stone cutting class with his grandmother.
Although the class only focused on basic lapidary work, and cutting stones such as agates, turquoise, and obsidian, etc., there was something about gemstones that fascinated Larry.
As he got older, he worked his way up to higher-end materials and eventually encountered people working on more sophisticated faceting machines. "Some day I'll be doing this," he remembers thinking as a young man. Larry's career, however, took him away from gemstones, with business ventures in auto body work, custom tile work and a position as a law enforcement officer.
Yet Larry's love of gemstones never faded. He continued to notice them, and found himself drawn to cutting as a hobby. In 1990, he bought three 'how to' books on cutting and read each of them over and over until he understood the faceting process. He also purchased his first faceting machine-a basic, inexpensive model-and began to practice cutting, including work on quality gemstones.
Although Larry had a successful tile business, his fascination with gemstones continued calling to him. He finally made the decision to launch his own gem cutting business several years ago because he knew he could produce higher quality work than he saw on most jewelers' shelves. He believed his meticulous attention to detail, creative approach and 20+ years of experience buying and cutting gems was an asset that could help him excel.
Using the Highest Quality Equipment Available Today
Larry worked on a basic faceting machine before upgrading to an Ultra Tec V2. Ultra Tec's machines are widely regarded as the most sophisticated precision machines on the market for advanced gem cutting. In 2011, he invested in an Ultra Tec Fantasy Machine. The Fantasy Machine enables Larry to achieve complex, highly unusual and stunning concave cuts that bring out the brilliance and beauty of a gem. He uses the Fantasy and the V2 machines to produce the exacting, detail-oriented work that only a meticulus craftsman can deliver.
Because of his interest in producing superior work, Larry buys only the highest quality rough stones with no inclusions (flaws) and takes the time required to produce extraordinary pieces. A particular interest is the emerging specialty of 'Fantasy Cuts' (also known as concave cuts), which can enhance the lighting and color of a gem, and increase the brilliance by as much as 5-7 times vs. normal cuts. Few cutters today can perform these unique concave cuts, some of which feature artistic images that appear when light refracts through the stone.
The Origin of Our Name and Custom Cuts
The name of the business, as well as the names of many of the custom Fantasy and Concave Cut gemstones, are based on characters and places from the book, "The Guernsey Literary and Potato Peel Pie Society." This is in honor of Morgan's mother, Mary Ann Shaffer, who wrote the book with Morgan's cousin, Annie Barrows.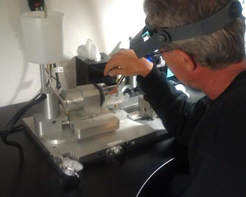 Faceter Larry Mattos is passionate about gemstones and regards cutting as an art form – not a production process.