Re-Cutting Services for Damaged or Poorly Cut Gemstones
Have a scratched, cracked or poorly cut gemstone? If you have a stone and believe it may be worth salvaging, we may be able to transform it into an object of beauty and value.
Our re-cutting service is ideal for stones that:
Have irregular or wavy cuts
Contain visible polishing marks
Weren't polished well the first time
Feature a fish-eye or other dark, lifeless spots
Are chipped or scratched from wear
Lack brilliance due to poor cutting
Not every damaged or poorly cut gemstone is suitable for re-cutting. But often we can rework stones with little value in their current state into a beautiful, valuable stone with some professional care and attention to detail. If so, it may save you considerable money vs. buying a new gem! And, if you own a gem that has real emotional value to you, we can help you preserve that piece of your heritage or memory that's even more important than the stone itself.
Get a Free Evaluation and Estimate
The only way to tell if we can help you is to examine your gemstone and see what it needs. Here's the process:
Call us first . Often we can gather information over the phone that will help you make a decision about how and whether to proceed.
Ship your gemstone to us . Use an express carrier such as USPS, UPS or FedEx with insurance and shipment tracking capabilities to send your gemstone to us.
Free evaluation and estimate . We'll examine your gemstone and advise you if we believe it is a good candidate for re-cutting. If so, we'll issue a guaranteed estimate of what it will take to repair, restore and/or re-finish your stone.*
Return or Refinish . Once we have discussed whether to proceed or not, we'll either return your stone or, if you approve the estimate, we'll perform the re-cutting and re-polishing services at your request. Either way, we'll return your original gemstone to you at our expense.
*Keep in mind, once your stone is re-cut, it may not fit in the same setting, since re-cutting generally changes the size and/or shape of the stone.
Learn more about our Cutting Services
Contact us about Gemstone Re-Cutting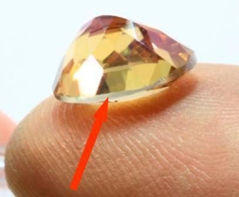 The irregular girdle on this stone almost fades completely at some points.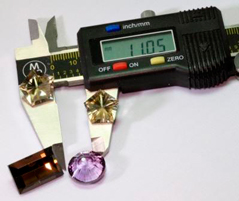 Precision tools
Precision tools like this caliper are used re-cutting gemstones.