The following FAQ's should answer many of your questions about gemstone cutting and what to expect when doing business with Ashton Gems.
For additional information, we also offer a Gemstone Buyers Guide intended to teach you the basics of buying gems.
I want to buy a pre-cut loose gemstone. What should I know?
A lot… far more than we can cover in a brief FAQ. You can read entire books on the subject (we recommend "Secrets of the Gem Trade," by Richard Wise. We have also prepared a free Gemstones Buyers Guide to help you understand some of the more important things you need to know before buying a gem. Reading this will help you avoid some of the pitfalls and outright scams, and give you enough information to ask intelligent questions.
I've seen such a variation in pricing on the Internet for the same gemstones. Why is that?
Gemstone pricing can be confusing to people without a background in gemology or lapidary (the art of cutting gems). The main thing to keep in mind is that you generally get what you pay for. You can buy cheap gems by the bushel from overseas sources, but the quality of the rough stone and/or the quality of the cutting is typically very poor. If you want quality gemstones and faceting (cutting), you can expect to pay more. Again, our Gemstone Buyers Guide can help you understand the difference.
What does gemstone cutting involve?
The art of faceting (cutting) and polishing gemstones is called lapidary. There is a lot to be said, and it is another subject addressed in greater detail in the Gemstone Buyers Guide. The short answer is that a faceter starts with a rough gemstone, a quality faceting machine, and various tools to create finished surfaces on the stone that give it shape and luster.
How do I select a good gemstone cutter / faceter?
A good gemstone cutter is more than a technician. He or she is an artist. Find one who has passion for the work and has significant experience. Make sure they have invested in the high-quality equipment (e.g.
Ultra Tec
) and tools necessary to do the job. Read what they have written about their services and look at examples of their finished work. Very important: look for one who guarantees their work!
What are your qualifications?
Faceter Larry Mattos has over 20 years experience buying and cutting gemstones, and is past president of the Santa Rosa Gem & Mineral Society. He regularly attends major gem shows, such as the Tucson Gem and Mineral Show. Larry uses the most advanced equipment available (see question about equipment), and unconditionally guarantees his work. Larry also maintains a library of more than 1,200 different cuts that help him explain to buyers what options are possible for the stone they have in mind.
What kind of equipment do you use?
We use Ultra Tec V2 and Ultra Tec Fantasy cutting machines. Both machines are state-of-the-art and used for making highly precision, difficult concave cuts on gemstones that other machines can only approximate. According to the manufacturer, it gives faceters "multi-axis precision and repeatability – enabling a true lapidary art."
What are "Fantasy-Concave Cuts," and do you do them?
Fantasy Cuts and Concave Cuts involve the creative use of refracted light through a gemstone to form unusual effects or designs. It is a relatively new form of artistic gemstone cutting that is attracting considerable attention in the industry and among consumers who value more brilliant stones and/or more unique gemstone designs. And, yes, we do Fantasy and Concave Cuts.  Read more
at this page
on our site.
I have a rough gemstone. Can you cut and polish it for me?
Yes. We can do all aspects of cutting and finishing your gemstone. However, there are questions we will need to ask you that may impact whether and how you proceed.
Contact Us
for details.
Do you cut diamonds?
Sorry, but we do not work on diamonds. Diamonds require different equipment than we use, and although they are the best-known precious gemstone, we have chosen to specialize in the colored gemstones-basically, everything BUT diamonds.
I don't see what I want on your website. Can you find a particular gemstone for me?
You bet! Keep in mind that our website is more like a portfolio than a complete listing of inventory. It will give you ideas and show you the quality you can expect from us. But we can find you virtually anything you want and cut it, subject to market pricing.
I have a setting I like. If I send it to you, can you cut a gemstone for it?
Absolutely. We will need to get some basic information from you (e.g. kind of stone), but once we have the setting, we can easily measure it for exact fitting.
Contact Us
for details on how to proceed. Or, tell us the exact size. You may need to get a jeweler to measure the setting for you, and then you can have it set.
How much do you charge?
If you are purchasing a pre-cut loose gemstone from our site, you'll find prices already listed in the
Gemstone Gallery
. Fees for cutting services depend on the size, the type of stone and the number of cuts. In any case, we will glad to provide an estimate based on what you have in mind.
Can you provide an estimate based on a photograph?
Photography is not a reliable indicator of size, color or facets, especially since gemstone photography is something best left to the experts. Please see the question on price estimates for more information.
How can I tell what the final gemstone will look like?
We can approximate what you provide in a picture. However, since gemstone cutting is a precise art, we provide our customers with a cutting diagram that shows the shape and facets before it's cut. Think of it as a blueprint for how your final gemstone will look. Before sending a cut stone to you, we will email a photograph to you before shipping for your tentative approval, but keep in mind that color varies from one monitor to another, so the actual color may not always be exactly the same as your preview.
Can you re-cut a gemstone that's already been cut?
Yes we can. However, keep in mind that once your stone is re-cut, it may not fit in the same setting, since re-cutting generally changes the size and/or shape of the stone. For more, read our web page about
re-cutting
.
My gem has chips and/or scratches. Can you fix it?
That depends. Chips can make it difficult, depending on where the chip is and how deep it is. If it's deep, that may mean significant re-cutting to achieve uniform facets so the finished gemstone doesn't look irregular. Minor scratches can often be fixed with polishing but, if they're deep, it can run into the same issue as chips. It typically changes the size of the finished stone, too, since we need to cut somewhat deeper to make surfaces uniform. We'll need to examine your stone and provide an estimate.
Can you create a stone based on my design or ideas?
We love working with designers! No matter how free-form or unusual your concept may be, we can work with it. All we need is the basic information: type of gemstone, shape, size, etc. Generally this is best discussed verbally and it helps if we have some kind of diagram to look at.
Contact Us
for details on how to proceed.
Can you provide a free estimate?
We are happy to provide estimates at no charge. Prices are based on the rough (if we're furnishing it), the size (weight in carats) and the number and type of facets we cut into the gemstone. You don't have to understand all this information to get an estimate. Just call us anytime at (707) 769-1706.
How does the process work?
Depending on what you want, we can often begin with a quick verbal estimate. Call us anytime at (707) 769-1706. If we're available, we can provide an estimate within 6-7 minutes, perhaps while you're still on the phone with us. Or, email us your specifications. See our
Pricing and Ordering
page for details.
Do you certify or guarantee your gemstones?
We don't formally certify gemstones, but we do provide information on origin and date of acquisition. More importantly for buyers, every gemstone we sell comes with an unconditional money-back guarantee. That way you can count on being 100% satisfied with your Ashton gem!
What kind of turnaround time can I expect if I place an order?
There is no "average" turnaround time for gemstone cutting. It varies widely depending on what kind of stone, the shape, size and particularly, the number of facets (cuts). However, we will provide a time estimate along with a cost estimate, and guarantee that in writing. If, for some reason, we fail to honor that written time estimate, we will credit you for 10% of the total cost.
Are there any limitations regarding your cutting services?
As mentioned earlier, we do not work on diamonds. We also do not cut very small stones (e.g. less than 2 mm in diameter). And, with stones furnished by the customer, work is done at the customer's risk, a policy adopted by most faceters. The reason is that internal flaws not visible up front can lead to issues during cutting and polishing. Often we can see probable issues before cutting starts, but we cannot be held responsible for stones that break despite us exercising all possible due diligence.
Can you appraise a gemstone for me?
We are happy to examine your gemstone in the process of providing a cutting estimate and give you with a probable range of value. However, we are not certified as professional jewelry appraisers and do not represent ourselves as being such.
What happens if I decide to return a gemstone?
Returns are rare, especially since we deliver high-quality stones and expert cutting services. However, if you find that the stone you receive does not meet your satisfaction, return it for a full refund within 15 days.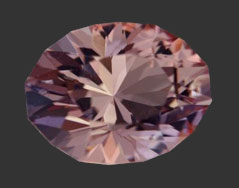 Morganite – B Oval Cut